About the Deputy Commissioner
Background:
Distinguished career in policing before retiring in 2010
Rose from Police Constable up to Superintendent whilst working for Lancshire Constabulary
He also worked in London on secondment as a Temporary Chief Superintendent to work on national policing policy
He has focussed on a range of voluntary roles across Lancashire since retiring from Policing
His voluntary work, most recently during the Covid-19 pandemic, saw him receive an MBE in 2021.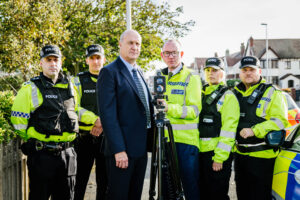 His role: 
The role of the Deputy Police and Crime Commissioner is to support the work of the PCC, his office, and the delivery of his Police and Crime Plan.
Started in his role in August 2021
Chair of the the Lancashire Safety Partnership and Local Criminal Justice Boards
Engaging with local communities and supporting the Commissioners development and delivery of his Police and Crime Plan.
Leading on work around road safety and criminal justice
Engaging with community organisations, partners, community groups and others to support their work and help deliver the Commissioner's priorities for policing.