The Police and Crime Plan 2021- 2025 sets out the Commissioner's four-year plan detailing how he will lead the fight against crime in Lancashire.
Launched in December 2021 by Commissioner Andrew Snowden, the plan announces the largest investment into Lancashire Police in living memory, with a £300m, 10-year commitment to overhaul police critical infrastructure, including, police stations and training facilities, digital and cyber capabilities, alongside hundreds of extra police officers delivered through the Government's uplift programme.
Five key priorities were outlined based on what people told Andrew during his election campaign and since he became Commissioner in May 2021. He has consulted extensively with the public, with over 5,000 completing his survey on what they want to see from policing in the county. He has invested a significant amount of time visiting as many frontline officers and police staff as possible, understanding the challenges they face and how he can support them.
All of this has played a vital role in the development of the Police and Crime Plan, which is a landmark moment for policing and crime prevention in Lancashire.
Download the Police and Crime Plan, watch the video and read a short summary of the priorities by Andrew, below.
Download the Police and Crime Plan
Getting Tough on Anti-Social Behaviour
In leading the fight against crime, I want to see reductions in anti-social behaviour across Lancashire. We have to start beating crime at all levels and I am committed to supporting the law-abiding majority of Lancashire residents.
Anti-social behaviour can take many forms – including intimidating and aggressive groups, drug dealing in residential areas, damage, graffiti, and the anti-social use of vehicles. What they all have in common is that they are a blight on our communities and make people feel unsafe in their homes and on the streets.
Anti-social behaviour is by far the top concern reported in surveys across the county and an issue that residents write to me about every day. Last year Lancashire Constabulary received 96,000 reports of anti-social behaviour and people across Lancashire have told me about the adverse impact it has on their quality of life, which is why I am including it as one of my priorities.
Disrupting and Dismantling Organised Crime
Serious Organised Crime presents a national security threat to the UK. Advances in technology, continued exploitation of the vulnerable and a greater propensity for violence, means that Serious Organised Crime is also increasing in both scale and complexity.
Serious and organised crime takes many forms and includes drug trafficking, fraud and financial crime, counterfeiting, organised acquisitive crime, cybercrime and exploitation. The nature and scale of organised crime has changed considerably over the last few years with a heavy focus on people as the commodity. Criminality such as modern-day slavery, trafficking and sexual and criminal exploitation are now evident. With these comes serious violence, drugs supply and exploitation, all of which have a devastating impact on young people, vulnerable adults, and local communities.
Many problems associated with anti-social behaviour are also derived from the activities of organised crime gangs, along with the thefts of vehicles, equipment and livestock from our rural communities.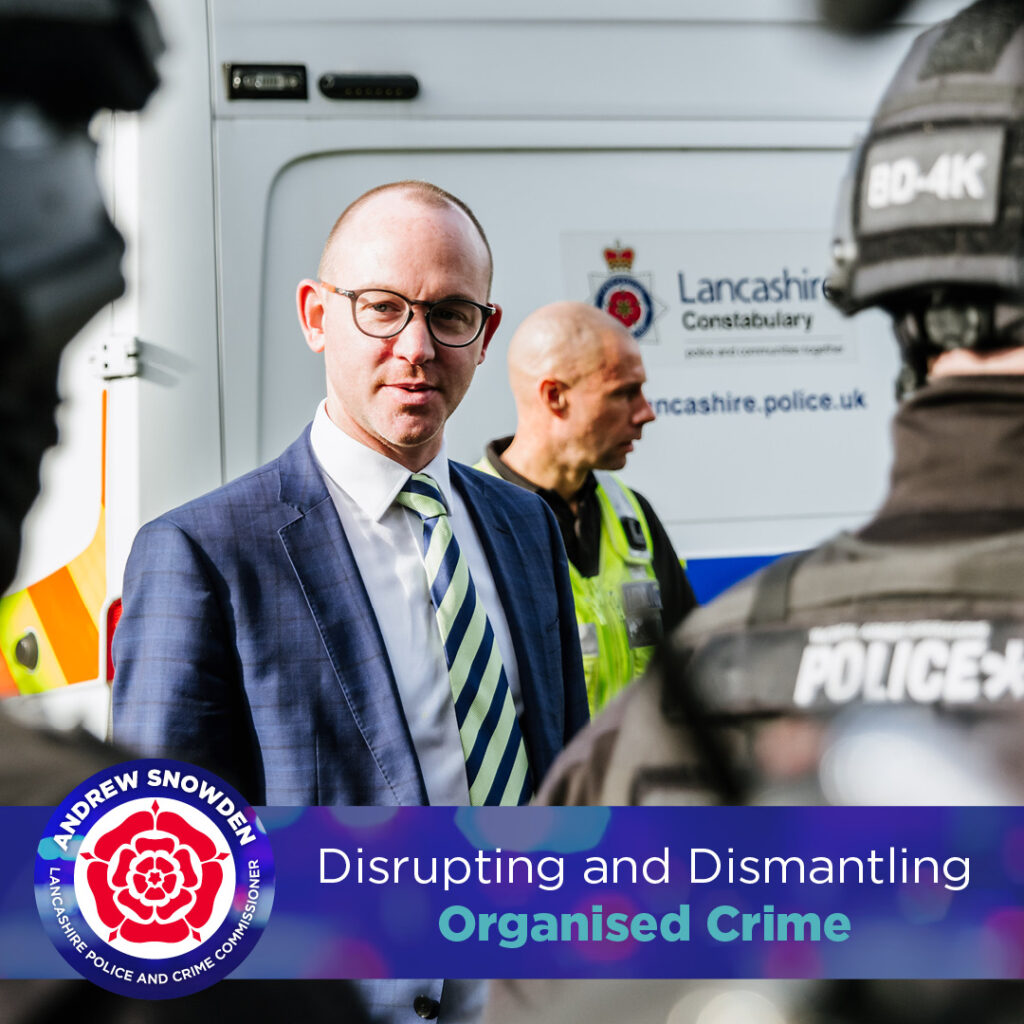 Tackling Domestic Abuse and Sexual Violence
Domestic abuse is an issue across every area of Lancashire and includes a wide range of harm including physical, sexual, emotional and financial abuse.
It accounts for approximately 14% of all crime, however, it is largely hidden, often behind closed doors and victims can be hesitant for a variety of reasons to report to the police, progress through the criminal justice system or access support.
Domestic abuse in Lancashire is a priority due to the demand, seriousness and impact on victims, children and young people. Improving the service to victims is paramount and investment has already been made through the Police Uplift Programme into a number of dedicated Sergeants and Inspectors, who are now leading on improving investigative quality across domestic abuse by providing a supervisory review for every case.
Cracking down on Burglary and Robbery
Burglary and robbery cause misery to people, especially when your home is violated. The effects of burglary are long lasting.
People who have been a victim of burglary often can't cope with being in the same property anymore and often move somewhere else. Many find it hard to sleep, lose confidence and are too frightened to be left home alone.
The impact of the pandemic has seen the levels of burglary reduce across the county, with lockdown measures meaning people were at home more than previously. However, the detection rate has dropped nationally, including here in Lancashire and the new Police and Crime Plan seeks to address this.
Targeting Dangerous Drivers
Dangerous driving will not be tolerated in Lancashire. I want everyone to be clear about my intentions and those of all the partners who work to make our roads safe: dangerous driving is a crime.
People who drive through a red light, drive at high speeds, drive under the influence of drink or drugs, use a mobile phone at the wheel, or fail to wear a seat belt are committing a crime. They put their lives and the lives of others at risk.